...
In the Uptime Infrastructure Monitor Web interface, begin by clicking Config, then click Global

Element

Credentials

Settings in the left pane. 
On this page are configuration fields that let you define properties of different metric collection methods, allowing you to auto discover large groups that share the same properties.
In the Uptime Agent Global Configuration section, click Edit Configuration on the far right. The port used to communicate with is 9998. By default, SSL is not enabled.

Click Save.
...
As with global agent settings, the WMI Agentless Global Credentials section of the Global Element Credentials Settings page lets you input WMI information once at a central point: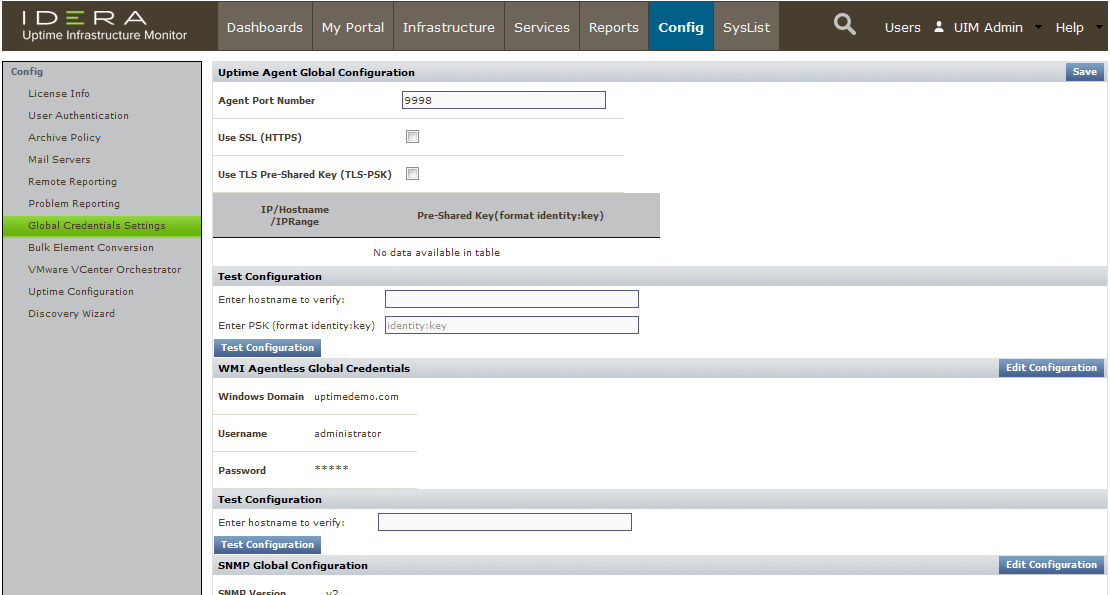 Image Modified
Configure the settings similar to those shown above:
...
Add Agent and WMI Servers Using Auto Discovery
Click My

Click

Infrastructure, then click Auto Discovery in the left pane.
In the Auto Discovery pop-up, confirm that the selection is Discover Servers and Network Devices on your network, and click Next.
In the next step, select Servers with Uptime Agent, and Servers with Windows Management Instrumentation (WMI). In both cases, select the Use [...] Global Configuration option that you have defined in the last two exercises:


Enter the subnet or IP address range, similar to above.

Info

Although we are keeping things simple, and using a single subnet or IP address range as shown above, there are other ways to point Uptime Infrastructure Monitor at subnets and subnet ranges to expedite the Auto-Discovery process. See Using Auto Discovery for more information.

Click Next to start the Auto-Discovery process.

When all servers on the subnet or IP address range are detected, you can make selections to add to your Uptime Infrastructure Monitor inventory. Select the Linux server that's using the Uptime Infrastructure Monitor agent, and select any WMI-managed Windows server.

Scroll to the bottom of the Auto Discovery list, and click Add. As a final step, you receive confirmation that these are now part of your monitored inventory.


Click Done.
...
After adding servers and closing the Auto Discovery window in the previous exercise, the main Uptime Infrastructure Monitor UI window is at the My the Infrastructure view. Refresh the page (or click My click Infrastructure) to ensure the latest additions appear immediately:
...
Note
Verify how many license spots are free by clicking Config, then clicking License Info in the left pane. The number of used licenses is displayed in the License Information section.
In this Getting Started Guide, the next track has you adding network devices. If you plan on following this track, you need to anticipate the number of network devices you plan to add. At minimum, you'll need at least 1.
If you have run out of license spots, it's likely you have added a vCenter Server. The easiest way to free up space is to manually ignore VMs; each VM you ignore opens a license spot for a new Element. Return to the Inventory Detail view for the vCenter (My Infrastructure > gear icon > View > Inventory Detail). Select VMs, ESX hosts, or even an entire cluster, then click Add Selected Elements to Ignore. The spots are freed up in your license, which you can verify by clicking Config > License Info.