Skip to end of metadata
Go to start of metadata
Global Scan
Changing Reporting Thresholds
The thresholds that determine when an Element's reported status changes between normal, Warning, and Critical (i.e., green, yellow, and red) can be modified for both the Global Scan and the Resource Scan dashboards.
Global Scan and Resource Scan thresholds are configured by separate sets of attributes that can be changed in the Uptime Infrastructure Monitor Configuration panel. By changing these attributes, you can set how large the color ranges are on resource gauges, and at what point table cells change color. See Status Thresholds for more information.
Note that when you change Global Scan threshold values, the changes are not retroactively applied to all existing Elements monitored by Uptime Infrastructure Monitor; changes only apply to Elements added to Uptime Infrastructure Monitor after the threshold changes are made. Conversely, the Resource Scan gauge ranges are updated immediately.
Custom Dashboards
User-created dashboards allow your various Uptime Infrastructure Monitor users to create views that augment or replace the default dashboards. While dashboards are still created to display historical data or current Element status, they are tailored to specific users or user groups. A custom dashboard can be designed to augment the default dashboards, or in some cases, replace them altogether.
Dashboards are based on one of various layouts, then completed by configuring component gadgets: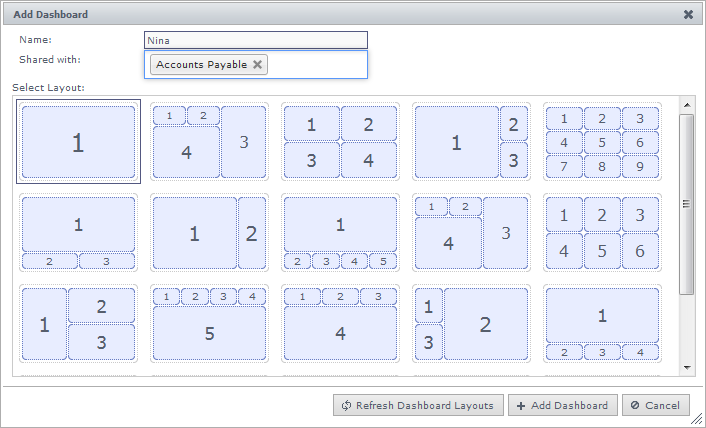 Gadgets, after developed, interface with Uptime Infrastructure Monitor using the Uptime Infrastructure Monitor Controller. Refer to the Integration Guide for more information.
Dashboards can be created by any Uptime Infrastructure Monitor user whose User Role permits it (see Working with User Roles for more information); dashboards are automatically shared with the user group they belong to.
Adding Dashboards
On the main Dashboards tab, click either the Add subtab, or click the configuration icon on the far right of the tab row.
A layout browser appears, showing various customization choices.
Name the dashboard.
The dashboard name is used on the dashboard tab. There is a 24-character limit.
Configure whether this dashboard is Shared with other user groups by clicking in the field, then selecting groups. 
You can only share your dashboard with groups that you are a member of, unless you are an Uptime Infrastructure Monitor administrator with the superadmin user role.
Click to select a dashboard layout.
Click Add Dashboard.
You are presented with an empty dashboard, with a wireframe layout.
Click an empty slot to add a gadget.
The Add Gadget browser is displayed.
Configure and add the gadget depending on its properties.
Configuration may include giving the dashboard a name that acts as its title in the dashboard layout.
Continue to add and configure gadgets until the dashboard is complete.
Managing Gadgets
Although Uptime Infrastructure Monitor is bundled with various gadgets, more are available at The Grid. Users can browse, install, and update gadgets from within Uptime Infrastructure Monitor using the Extension Manager, if their User Role permits gadget management (see Working with User Roles for more information).
Users who are allowed to manage gadgets can access this option by clicking the configuration icon on the far right of the tab row on the Dashboards tab. In the pop-up menu, clicking Search For Gadgets opens the Extension Manager, and displays the following:
INSTALL: the gadget is available on the Grid, but is not installed on your Uptime Infrastructure Monitor deployment
INSTALLED: the gadget is installed, and is available for addition to custom dashboards
UPGRADE: the gadget is installed, but there is an update available on the Grid
Managing Dashboards
Although dashboards are easily shared among user group members, there are management rules:
only the dashboard creator can change its name and share permissions, or delete the dashboard
sharing a dashboard means everyone in the user group can also see the dashboard, but none of them can make changes to it
administrators with the superadmin role can see all user-created dashboards, but cannot change them
It is possible to make a custom or default dashboard a "primary" view:
every dashboard can be rendered as a fullscreen view
any dashboard can be set as the landing page for each user account (see Adding Users for more information)
Sample Custom Dashboards
In addition to the standard dashboards, there are two custom dashboard examples that showcase some of the gadgets that are included with Uptime Infrastructure Monitor:
Custom Example: uses one of the multi-cell layouts to present the different bundled gadgets that indicate element status:


Group Status Chart
Element Status Chart
Incident Panel
Topology Tree

Map: demonstrates how you can use the Pin on Image gadget to visually arrange your servers on a geographical map
For information about each gadget, see Dashboard Gadgets.