Skip to end of metadata
Go to start of metadata
Understanding Alerts
When a problem occurs at a datacenter, Application, or SLA, the Monitoring Station can send alerts to users. Alerts are notifications that inform users who are configured to receive alerts of the problem. The notification message contains the following information:
Whenever the status of an Element changes (for example, from Critical to Warning), Uptime Infrastructure Monitor sends an alert.
You can also configure alert escalations that occur if a warning is sent and is not acted upon. For example, if an alert is sent to a system administrator, and the administrator does not attend to the problem within a specified amount of time, then the alert is sent to the administrator's manager.
Uptime Infrastructure Monitor can send alert to a phone, pager, or one or more email addresses.
The following is a sample email alert:
The following is a sample pager alert:
Understanding the Alert Flow
Alerts in Uptime Infrastructure Monitor follow a specific flow. When Uptime Infrastructure Monitor detects a problem with a host, it issues an alert. Uptime Infrastructure Monitor then continues to check the host at specific intervals and reports on the status of the host.
Considering the following example:
Uptime Infrastructure Monitor encounters a critical error on a host. Uptime Infrastructure Monitor performs three rechecks at one minute intervals–all of which return a critical error–and then sends an alert after the third recheck.
Uptime Infrastructure Monitor then checks the host every two hours. While Uptime Infrastructure Monitor encounters two critical errors, it does not send an alert. Then, the status of the host changes from Critical to Warning. When this change is detected, Uptime Infrastructure Monitor sends an alert informing recipients of the change in status. When the status of the host changes to OK, Uptime Infrastructure Monitor issues an alert informing recipients that the host has recovered.
This alert flow is illustrated in the following diagram: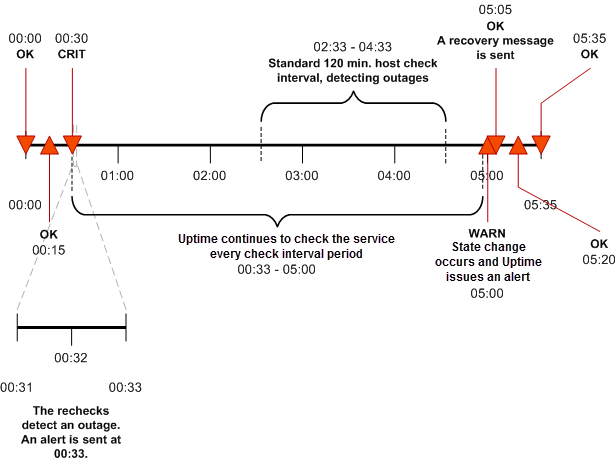 All service monitors have a common set of Monitor Alert Settings that configure aspects of the alert flow.
Alert Profiles
Alert Profiles are templates that tell Uptime Infrastructure Monitor how to react to various alerts that are generated by service checks. Alert Profiles enable Uptime Infrastructure Monitor to execute a series of actions in response to the failure of a service check or when a threshold is exceeded. The following diagram illustrates how an Alert Profile works:

An Alert Profile can send an alert via email, or to a pager or a cell phone. You can configure any or all of these actions to occur simultaneously by associating the Alert Profile to multiple Notification Groups. For example, if a Web server process stops responding, both the system administrator and Web server administrator can be notified.
Custom Alert Formats and Alert Scripts
Alert Profiles include standard message templates for emails and pagers, which are well suited for most alerting needs. However, you can customize the format of the alert using predefined variables. When creating or configuring an Alert Profile, selecting the Custom Format option provides you with a template to modify, and override the message template for the alert type you have selected: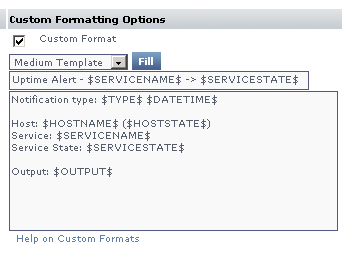 See Custom Alert Message Variables for more information.
In addition to sending alert messages, Uptime Infrastructure Monitor can also execute an alert script. When an outage occurs, the script is run on the Monitoring Station, once for each user who receives notification. Like custom alert messages, alert scripts use predefined variables to represent outage-specific information; these variables are passed to the script at the time of the outage.
For information on alert script variables, see Script Alert Variables. For more information on alert scripts, see the IDERA Knowledge Base article, Creating Custom Alert Scripts in Uptime Infrastructure Monitor Alert Profiles.
Action Profiles
Action Profiles are templates that direct Uptime Infrastructure Monitor when it encounters a problem on a monitored system. You can associate an Action Profile to any Service Monitor, Application, or SLA if their state changes from OK to Warning or Critical. Action Profiles are normally associated with any of these monitored Elements at the time of their configuration; Action Profile associations can also be changed when you are modifying existing service monitor definitions.
See Using Service Monitors, Working with Applications, and Adding and Editing SLA Definitions for more information about configuring Service Monitors, Applications, and SLAs, respectively.
Actions include one of the following tasks:
As templates, Action Profiles can be reused for any number of Service Monitor configurations. This means you can create a series of them as standard actions used to respond to typical types of problems you may encounter, depending on what role a Service Monitor is playing (for example, availability or performance).
Monitoring Periods
Monitoring Periods are the times over which a service monitor is actively monitoring a host. The Monitoring Periods also apply to the times when Uptime Infrastructure Monitor sends alerts
Uptime Infrastructure Monitor comes with the following Monitoring Periods:
You can add Monitoring Periods that suit your needs. For example, you can create a Monitoring Period called " Weekends" that only monitors a host from 12:00 a.m. on Saturday to 11:59 p.m. on Sunday.
Adding Monitoring Periods
To add Monitoring Periods, do the following:
In the Definition section, enter one or more time period expressions that combine to create a full Monitoring Period definition.
See Time Period Definitions for information on the types of time period expressions that are valid in Uptime Infrastructure Monitor.